A few tools and guides to assist you in the creation of your website with a mobile device.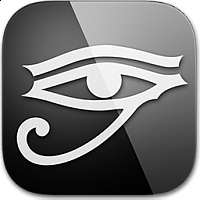 Is there a Review of all the Website Builders Apps?

Finding a honest review of website builder is very hard. Why?

90 % of the review sites about website builders are actually biased, as they are financed by affiliation.
The main interest of the author is not to inform you, it is that you find their blog on the first page of a Google search and that you open a site with the link they provide.
Wix for example built most of its strategy on this: it why it comes out first most of the time, even when it is far from relevant.
Not only that these review sites are often not reliable at all, even worse, they tend to give the wrong idea about how to choose a website builder.


2 attempts at creating a helpful review of website builders apps

iOS Website Builders Genuine Reviews and  web-builder-app.com.
The authors of these blogs have built a methodology designed to help users understand a few important points:

These are the questions you should ask yourself when you choose a service to create websites.

• Can someone who creates a site for the first time, just by using this app, will understand what makes a good website?

• Is this app first conceived to help newbies to create a site or is it designed to sell additional features?

• What kind of website will suit your needs:
     -  A simple presence on the web, an online business card?
     -  A richer site, comprised of many well organized pages to present your business?
     -  An online store? For how many different types of items?

  • Did you know? More than 80% of people who start building a site usually give up before publishing it. Even when they have paid for it. So, a relevant way to judge a website builder is by trying to estimate the chances for a new user to end up with a real website one day.

Guides & Tutorials about building a good website

Google's essential tools when you create a website

There are many professional SEO apps out there, but it might be relevant to start with the true basics, what Google itself proposes.

• Google Analytics - The key: Understand that 10 real users browsing more than 4 pages is much much better than 1000 visitors landing on your home page and not clicking any of the links.

• Trends - The key: When you know what are the most searched expressions on Google, try to find your own niche: Identify what is specific to what you do and for which there is maybe not so many answers for.

• Adwords - The key: Experiment, try new stuff every week, read blogs about AdWords, keep an eye on your ad campaigns,  ...  or you will be better throwing money through the window, there is a bigger chance that somebody thanks you :-).

How is it that SimDif sites are visible on Google?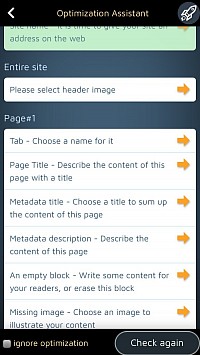 Unique to SimDif, you can activate the optimization assistant.
How to be visible on search engines with a SimDif website?
Do you know what is one of the most important things Google is trying to evaluate in a website? Its usefulness.

To be a relevant result in a search, a website has to be clearly useful to its users. On the other hand Google does not really speak any of the human languages, so, how does it measure the usefulness of a site?


Content organization is most of the answer:

If you want to help Google understand how well you answer your readers needs, you want to organize your website accordingly.
The aim of this app is to help you end up with a website clearly organized around your clients' questions. A site made with SimDif facilitates that Google memorizes a clear picture of your business.


When you publish your site, the Optimization Assistant guides you to complete the invisible but important details.
It takes a little time, and certain qualities, for a website to be visible on Google in a useful way.
To help you further, you can run a test to check if you have not forgotten to address some key aspects of creating a website.
It is better to fill up the metadata on each page, have a title on each block, ...
Click publish, check the list, and tap on the orange arrows: it will take you directly where the missing part is.