Make a Smart website on iPhone

The Smart version gives you up to 12 pages, more graphic presets, and more options, at a very soft price.

Try SimDif Starter for free, and upgrade to Smart when ready.
The Smart websites by SimDif are designed to be the center of your digital world.

• Create special buttons to invite your readers to read one of the pages of your site, or to go visit your Facebook page.

• You can also create buttons to invite them to use Skype, Messenger or WhatsApp ... to get in touch with you directly.

• In the Smart version you can add comments to your blog entries and manage them from your SimDif App.

A SimDif website, in its Smart version is a pretty good investment.

For a very soft price you can create a solid presentation website. A SMART site is a good way to build a serious online presence for your activity.


A SimDif SMART site has everything you can find in a STARTER with a few more relevant features:

• Use up to 12 pages to build your website, and enjoy many additional features. A richer and more useful site will be appreciated by your readers and Google!
• Gather professional statistics about your visitors to better understand their behavior on your site by installing Google Analytics.

•••

Create your Pro site with an iPhone

SimDif created a fair price for each country

SimDif has a unique way to calculate its price.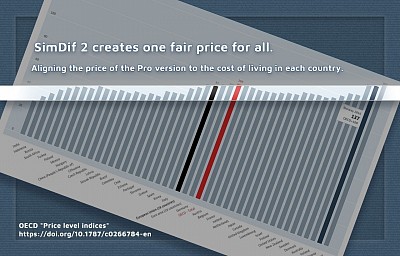 Creating a fair and different price for each country...
How is it that SimDif sites are visible on Google?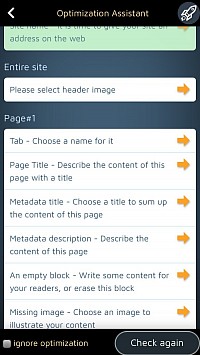 Unique to SimDif, you can activate the optimization assistant.
How to be visible on search engines with a SimDif website?
Do you know what is one of the most important things Google is trying to evaluate in a website? Its usefulness.

To be a relevant result in a search, a website has to be clearly useful to its users. On the other hand Google does not really speak any of the human languages, so, how does it measure the usefulness of a site?


Content organization is most of the answer:

If you want to help Google understand how well you answer your readers needs, you want to organize your website accordingly.
The aim of this app is to help you end up with a website clearly organized around your clients' questions. A site made with SimDif facilitates that Google memorizes a clear picture of your business.


When you publish your site, the Optimization Assistant guides you to complete the invisible but important details.
It takes a little time, and certain qualities, for a website to be visible on Google in a useful way.
To help you further, you can run a test to check if you have not forgotten to address some key aspects of creating a website.
It is better to fill up the metadata on each page, have a title on each block, ...
Click publish, check the list, and tap on the orange arrows: it will take you directly where the missing part is.